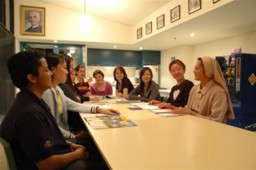 The Mission that the Daughters of Divine Zeal fill in Richmond

is one of giving a home to international students and students from country

Victoria and interstate.
Not only do they provide accommodation for these students but they are also available to care for their spiritual and pastoral needs if requested.
Many students arrive at Madre Nazarena Students House and they have never been away from family and home before. The city can be a very daunting place if you are unaccustomed to it. International students have the added stress of language difficulties.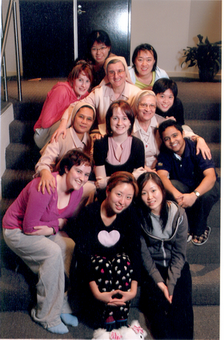 The Sisters are able to smooth the transition by offering a safe, secure and friendly environment for them to live and study. Besides the Sisters, the Hostel is staffed by a chief and cleaner so that the students are free to concentrate on their studies free from the worry of caring for themselves.
Since the Hostel re-opened in October 2001 there has been a wonderful mix of students from many countries and religious backgrounds. This had broadened the students understanding and tolerance outside the boundaries of their existence and help them develop a balanced outlook on life.
The Sisters experience great joy when former students return to visit. Seeing girls they have nurtured, return as confident and mature young ladies making a place for themselves in the world, is a very gratifying experience.
The Sisters of Richmond are carrying on the spirit of Rogate in the modern world and their influence travels with the students as they return to their homes and begin the next phase in their journey through life.
Paula Stuart